About Cliffs Construction, LLC
Learn about one of the best home remodeling companies in the Indianapolis, Indiana area
TRANSFORMING HOUSES INTO HOMES IN INDIANAPOLIS, INDIANA SINCE 1995
Working together is one of the highlights of our lives. We both enjoy helping people and changing lives through designing and building homes.
Our mission is to inspire, connect and elevate the quality of life in and around Indianapolis – one home, one family, and one community at a time.
The values we bring to each project (including yours) are commitment, stewardship, enthusiasm, and high-level attention to detail. This allows us to create the space you and other clients need to finally feel at home in your house.
We're thrilled to get to know you and fulfill the dreams you have for your house. All we need to start is for you to fill out our contact form!
About Cliffs Construction, LLC
Dwight Cliff, Sr. started Cliffs Construction, LLC, in 1995. 
His goal was, and is, to help families get quality spaces they can be proud of. These quality spaces will inspire people, connect families, and dramatically improve the quality of our clients' lives.
He and his son have done just that for over 100 families in and around Indianapolis, Indiana.
They want to do the same for you and your family! Whether it's a new kitchen, bathroom, basement, addition, home remodel, ADU, or garage.
The first step is to reach out to us.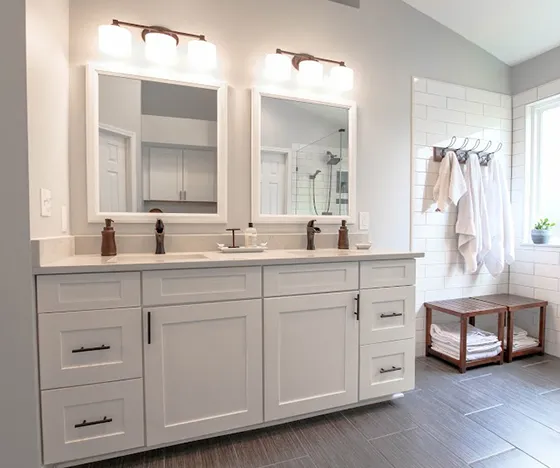 Here's What Our Customers Say…
Check out these reviews from some of our amazing clients and find out what it's like to work with us!
Cliff construction company Specializes in quality
Cliffs Construction did a total kitchen refresh and dining room remodel. They also opened up the wall separating our living room and dining room, giving our 65 year old ranch a contemporary, modern, open feel. Their work has totally transformed our living space and we are just thrilled. Cliffs Construction helped us refine our goals for the project, specifically suggesting design and lighting options that made more sense than our original ideas. We are happy with the way those suggestions worked out. Our project was finished in March 2020, just as COVID hit, forcing us to be home 24/7. We felt so blessed to be in a beautiful space made possible by the amazing work of Cliffs Construction.
A team you want to work with to complete your renovations! 🔥🔥
Jason Just Being Me
2020-12-27
👍🏻great people 👍🏻real respect comes from these people....positive impact on the communities as well...
I cant say enough about the character and integrity of both Dwight and his company! I HIGHLY recommend Cliff Construction!
Adam Shoemaker
2019-11-20
I utilized Cliff's Construction to build a two-car garage with an upstairs apartment at my home. Cliff's was great to work with, and the quality of the work was outstanding. I appreciated the consistent communication throughout the build, and the ease of getting in contact with them when I had any questions or concerns. I would definitely work with Cliff's again if I have a project in the future.
Amalia Griffin
2019-07-06
Cliff's Construction renovated our kitchen recently. The results are amazing and we could not be happier with the way it turned out! They took our small 1930's home closed off kitchen and opened it to make it feel huge and high end. We have gotten so many compliments and use it constantly. They blended it to our existing home decor so nicely- their attention to detail and creativity was clutch. It was tough living without a kitchen for several weeks of course but Cliff's kept the site cleaned up as much as possible and they were great communicators throughout the job. Plus, the owners and crew are trustworthy, hard working, and friendly. They made sure everything was done right. Although we are hoping not to renovate anymore for awhile so we can just enjoy, we will definitely use Cliff's Construction again in the future.
Kuldip Panchal
2019-03-24
Cliffs Construction did a great job on our master bathroom remodel. We choose another contractor who was a lot cheaper to do our hallway bathroom, the process was painful and took forever. When we decided to do our master bath we went with Cliffs Construction this time. I will say they were more expensive but I've learned in design and construction you always get what you pay for and their quality was well worth it. Choosing Cliffs was the best decision we made. They created a great design, team maintained communication throughout the whole project and the quality of work was top-notch.
Alex Sylvester
2019-01-19
Cliff's Construction remodeled two bathrooms for us. They did a great job, very professional and always kept a clean workspace. Very happy with their work.
I had Cliff's Construction remodel our bathroom. They did an amazing job. Their attention to detail was amazing. The tile work was gorgeous. They installed top of the line fixtures. I would love to use them again.
NOw tell us about yourself and your home improvement project